disPOD Stronger Blueberry Cheesecake 1ml HHC-P
The new Stronger disPOD with delicious Blueberry Cheesecake flavor now carries 1ml of exceptional HHC-P. This revolutionary cannabinoid HHC-P can deliver up to three times the potency, ensuring long-lasting intensity.
Elegant and unique HHCP disPOD
The Stronger disPOD HHCP collection represents the pinnacle of our HHC-P range. This compact, disposable HHCP vaporizer was created to offer a simple and proven way to vape. With a high concentration of quality HHC-P distillate, it guarantees a deep and lasting effect. If you are a newcomer, we recommend caution as HHC-P can have a delayed onset of an effect that only fully manifests itself after 1-2 hours. It is therefore important to be prepared for its intensity.
The stunning taste of blueberries
The Blueberry Cheesecake variety offers a rich and sweet taste that perfectly combines intense blueberries with creamy cheesecake. This is the perfect choice for dessert lovers and those looking for a subtle yet distinctive experience. This premium vaping device has been developed to bring you an unforgettable experience and a peaceful relaxation throughout the day. The cartridge contains 1ml of a mixture of HHC-P, HHC and terpenes in a ratio of 15% HHCP, 80% HHC and 5% terpenes. Immerse yourself in a wide variety of blueberry cheesecake flavors that you will love instantly.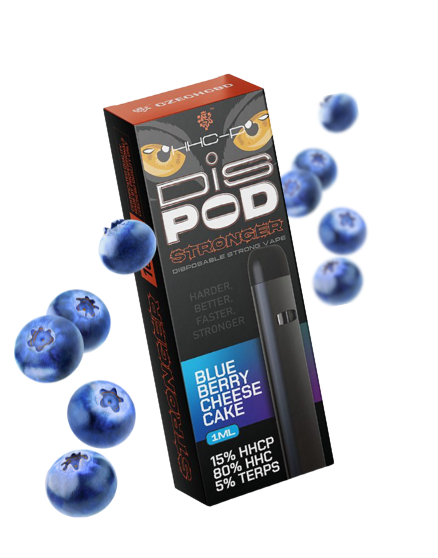 Quality production
The HHC-P and HHC extract that we use in our production is obtained through the process of hydrogenation of a high quality CBD extract. We will never offer fully synthetic or chemical products. The hydrogenation process is standardized and has long been used in the food industry for the production of fats. Thanks to the professional approach of our experts, we can guarantee you the highest quality of HHC-P and HHC extract. Its uniqueness lies in its rich and tasty combination that combines the delicate taste of blueberries with the creamy essence of cheesecake.
Be the first who will post an article to this item!