CBD chewing gum 1200 mg - 60 pcs
Menthol CBD gummies - gummies with a high CBD content that is optimal for use on the go, at school, or at work. They provide fast and effective absorption of cannabidiol. They help reduce stress, increase concentration, and promote healthy sleep. These CBD gummies are suitable for daily use.
Carefree choice for travel
Menthol CBD chewing gum - chewing gum with a high CBD content, which is an ideal supplement for any situation. Whether you're at work, school or behind the wheel, they provide an effective way to manage stress.
Fast absorption
Studies and research clearly show that CBD effectively absorbs the mucous membranes of our body, allowing it to be quickly absorbed into the bloodstream when chewed. That's why we created menthol CBD chews that promote better absorption of cannabidiol.
Goodbye ineffective chewing gum
Our CBD Menthol Gum contains 20 mg of CBD distillate in each piece, making it one of the few truly effective CBD gum products, and it's not just a fad. You can take it repeatedly throughout the day and enjoy the even effect of CBD. the package contains 60 pieces of each chewing gum.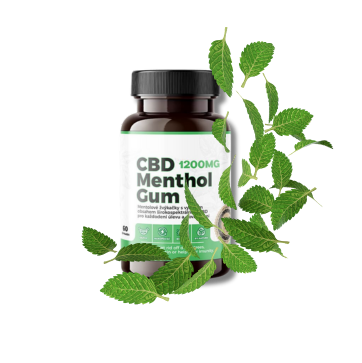 Be the first who will post an article to this item!